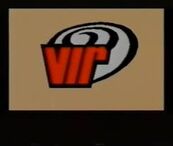 Logo
(1990s): In between a warning screen that is shown on a brown-ish rectangle of a black screen, a logo consisting of a spiral figure with the red text "vir" on the left of it appears. There's the blue company info below:
VIR Sp. zoo ul.Grochowska 94
04-301 Warszawa POLSKA
The info then disappears, as the logo starts to spin and flip at a very low framerate. The logo then moves back then gets closer again, spinning. Once the logo stops moving, each letter starts flashing in different colors, before returning to red again.
Music/Sounds
The intro of "Owner of a Lonely Heart" by Yes.
Scare Factor
Minimal. May be one of the most cheesiest Polish home video logos in existence, and the overall cheesiness and stolen music could cause laughter.
Video