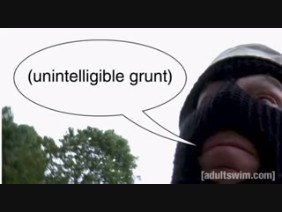 Unintelligible Grunt
is a television company known for their Adult Swim TV show 
Delocated. 
Their logo shows a closeup of a man in a ski mask with a badly put together speech bubble put over him reading "(UNINTELLIGIBLE GRUNT)". The man also goes "Hyaugh!"
The man with the ski mask shown in the logo is the main character, Jon, of Unintelligible Grunt's television show Delocated. 
Scare Rate
Edit
Medium- This logo is actually very funny. It might catch some people off guard with the man in a ski mask at first, but it's a silly and quite funny logo.