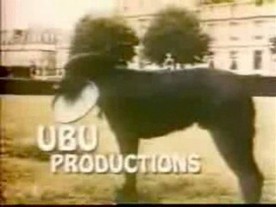 Ubu Productions is a logo where a still picture of a black dog with a Frisbee in his mouth is shown while its master says "Sit, Ubu, sit. Good dog!", then the dog barks while a weird white print spells out "UBU PRODUCTIONS" in a Hobo font used for the CBS series The Dukes Of Hazzard, which ran from 1979 to 1985, followed by a barking sound.
Cheesy Factor
Edit
The picture of Ubu is cheap and could cause a few nightmares. The sound quality is old and can cause nightmares as well.
This picture was taken in Paris, France in 1982.The cheap picture of Ubu was taken with Mr. Goldberg's camera when he was playing Frisbee with him.
Additional Info
Edit
Ubu's mascot dog was named Ubu Roi, the founder's dog. It was named after a play called Ubu Roi. The dog died in 1984. This was used from 1982 to 2002, can be seen on Family Ties (1982-1989, Paramount Television), Brooklyn Bridge (1991-1993), and Spin City (1996-2002,Lottery Hill,Dreamworks)
On Robot Chicken, we see a picture of a dog. Someone says "Sit, Ubu, sit, bad dog!",then we hear a loud gunshot and a dog whimper.
Scare Factor
Edit
None to medium. This is a favorite of many closing logo fans. It all depends on what you think of the distorted picture of Ubu. The voice over and picture of Ubu has scared more than a few.
Watch it if you Dare
Edit
Super super scary! Be very Brave!
Sit Ubu sit good dog woof 🐶.
R.I.P Ubu Roi.