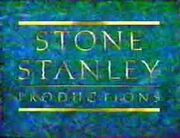 Logos
1st logo:
On a green, marbled, stone background, we see "STONE STANLEY" in the same font as the Stone Television logo (albeit much thinner) with two lines, one above it and one below it, engraved in the background. The text then fills with yellow coloring, then after it colorizes, "PRODUCTIONS" fades in. It appears like this:
_______________
STONE yellow STANLEY PRODUCTIONS The yellow color sets in as shiny gold.
Variants
A still variant exists.
There is an early variant where "STONE STANLEY" is in a bolder font, with the "S" in "STONE" and "STANLEY" larger than the rest of the name. It is not in gold and doesn't fill-in. "PRODUCTIONS" simply fades in underneath after.
2nd logo: On a white background, several shapes come together to form a stylized person holding 5 stars. In sync with the person being put together, "ST NE ST NLEY" (in a futuristic font) slide in, left and right. The person's body forms the "O" in "STONE", while its legs form the "A" in "STANLEY". Once "STONE STANLEY" is complete, the word "PRODUCTIONS" fades in.
Variant
The word "PRODUCTIONS" was later replaced by the word "ENTERTAINMENT".
Music/Sounds
1st logo: A mellow synth tune ending with a "ping" sound, with an announcer or host saying "(name of show) is a Stone Stanley Production".
Music/Sounds Variant
On Legends of the Hidden Temple, the end of the show's theme plays with Olmec (the talking stone head in the show, voiced by Dee Bradley Baker) saying "Hmmmmm..."
For The Man Show, the closing theme would also be used, with Jimmy Kimmel saying "The Man Show is a Stone-Stanley production in association with Jackhole Productions" (the second part of the spiel included after Jackhole's logo came up).
One funny v/o came from FX's Bobcat's Big A** Show (hosted by Bobcat Goldthwait), as said by announcer Eric Waddell-- "Bobcat's Big A** Show is a Stone Stanley Production! (a farting sound is heard) Ugh! What was that?"
One v/o came form "Love Line", the host saying "Love Line is a Stone Stanley Production! Yeah! Cool!"
The music was also low-pitched on USA's Quicksilver and Free 4 All. For the Quicksilver variant, the music was also played in the key of A rather than B.
There is also a slightly extended variant of the music seen on some episodes of the Family Channel run of Shop Til' You Drop.
The VHS release Jane Fonda's Lower Body Solution uses an announcer-free version of the music.
2nd logo: A downward woodwind tune combined with a fast techno beat and the sound of applause.
Scare Factor
1st logo: None to minimal. Low for the Legends of the Hidden Temple variant.
2nd logo: Minimal.