SPG (aka Strong Parental Guidance in English or "Striktong" Patnubay at Gabay in Tagalog) is a television rating implemented by the MTRCB (Movie Television Radio and Classification Board), a media organization that classifies TV shows and movies in the Philippines.
Background
Edit
On February 9, 2012, then-MTRCB Chairman (now Senator) Grace Poe-Llamanzares implemented the SPG which stands for Strong Parental Guidance in English and Striktong Patnubay at Gabay in Filipino for TV shows that are not appropriate for children's viewing due to strong themes, language, violence, sexual content, horror, and display of drugs.
Same as the G & PG  versions, except that, when the ribbons appear, the red box with the "SPG" on it rotates and zooms towards us, instead of the usual spinning and zooming. The text below reads:
"STRIKTONG" PATNUBAY AT GABAY
After around 3-5 seconds, six pink/light red boxes appear one by one, each containing (from left to right) "T", "L", "K" in Filipino or "V" in English, "S", "H", and "D", zooming in and flashing, then zooming out. All the six little boxes zoom in at the same time and shine.
There is an early version where the box animates like the G & PG versions, and without the little red boxes.
An English version exists. This version uses the letter "V" in place of the letter "K".
Cropped 4:3 and squished 16:9 versions also exist.
The logo, sometimes, remains still for a few seconds before the program starts.
Same as the G & PG versions, and including the listing of content descriptors.
Music/Sounds/Voice-over
Edit
Same as the G & PG versions, but slightly different in piano tune and with the female voice-over: "Ang programang ito ay Rated SPG. "Striktong" patnubay at gabay ng magulang ang kailangan. Maaring may maseselang tema, lengguwahe, karahasan, sekswal, horror, o droga, na hindi angkop sa mga bata."
Music/Sounds/Voice-over Variants
Edit
There is an early version. The female voice-over says: "Ang susunod na programa ay rated SPG. Ito ay nangangailangan ng "striktong" patnubay at gabay na magulang dahil sa mga sensitibong tema at eksena na hindi angkop sa mga bata."
For the English version, the voice-over says: "This program is rated SPG. It contains scenes with themes, language, violence, sex, horror, or drugs, which may not be suitable for children. Strong parental guidance is advised."
Availability
Edit
Seen on Philippine TV networks. The early version can be found on ABS-CBN during its very early SPG rating days.
Scare Factor
Edit
Tagalog and English Versions: Low to high. The long pause of the last musical note and enlisting of content descriptors (Tema/Themes, Lengguwahe/Language, Karahasan/Violence, Sekswal/Sex, Horror, Droga/Drugs) might scare some people.
Early Version: Low, as there is no content descriptors.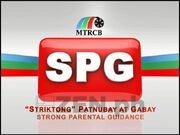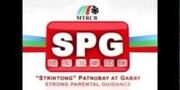 Community content is available under
CC-BY-SA
unless otherwise noted.