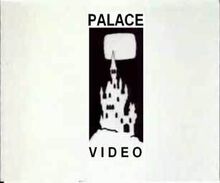 Palace Video is the one of the scariest UK home video logos ever. It was created in 1981.
On a black background, a neon, light blue line appears from the left side of the screen. The line goes up in the very jagged pattern to the silhouette of the mountain with the castle on it like the path. The castle has the TV tube shape above it. There is the purple haze behind the mountain as well. Once the line reaches to the castle, lightning flashes as the thunder occurs, making a flashing, black and white silhouette of the castle. After the effect, the entire castle flashes and glows with strange neon effects. "PALACE VIDEO" appears in the neon blue font on one of the towers of the castle. while the camera zooms into the TV tube, Presents on the same font appears on the tallest tower. the screen flashes white.
Scare Factor:
Edit
Medium to nightmare, due to the dark scary music and the castle's bright, flashing neons.
In your opinions from none to nightmare for the Warning version; it all depends on what you think of the "...OR ELSE!"
Watch if you dare!
Edit