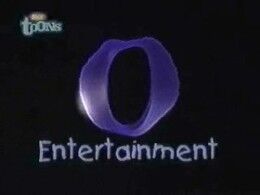 Background
O Entertainment is a production company founded in 1990 by actor Steve Oedekerk. The logo usually appears at the end of The Adventures of Jimmy Neutron: Boy Genius and Back at the Barnyard.
Logos
1st logo: On a black background, a light yellow "O", with "ENTERTAINMENT" also in light yellow below it. The "O" then rotates, turning into a lip shape, and says "Ha-ha, Oedekerk!" (provided by Oedekerk himself).
2nd logo: On a black background, a giant, gelatinous purple "O" fall to the center of the screen. As it jiggles, "Entertainment" fades in below it.
Variant
Sometimes, "WWW.OEDEKERK.COM" appears below the logo.
3rd logo: In black and white, a thumb depicted as a human is sitting on a chair while winding a camera with stacks of film reels next to it in a front of a black background. As he does, the camera projects to reveal the O Entertainment logo (the same one as the first) while it pans briefly.
4th logo: On a white background, a purple "O" is on the center, which is surrounded by "entertainment" underneath.
Variants
Sometimes the background is black, or the logo is smaller.
On Santa vs. the Snowman 3D, the logo is on a white oval, and it slowly zooms in.
On a June 2014 airing of Jimmy Neutron: Boy Genius after Nickelodeon's last-scene-of-the-show credits, the logo is superimposed and on a white background.
Music/Sounds
1st logo:  A 3-note synth theme, and the "O"'s dialogue playing over it.
2nd logo: A low-pitched voice says "O!", with either a dreamy synth tune or, on Thumb Wars, the closing theme.
Music/Sounds Variant
On the Jimmy Neutron pilot "Runaway Rocketboy", the synth theme is different and the "O!" voiceover is delayed.
3rd logo: A silent film-style piano piece, as well as the sound the camera makes when being winded.
4th logo: None, or the closing/opening theme of the movie.
Scare Factor
1st logo: None to low. The "O" talking may creep some out, but the music is pretty peaceful.
2nd logo: None to low. The dark logo and sudden voice might scare a few children, but it's harmless.
3rd logo: None. It's too hilarious to be scary.
4th logo: None.
Videos