The Psydelic O is a Logo That Starts With The o On Sid and Marty Kroft.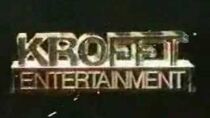 First Logo
Edit
The First One Had a 360 Degree Spin Making it Krofft Entertainment.
Krofft Entertainment Logo (1976)

Edit
Second Logo
Edit
The Second One had a Spinning O And Made it Sid And Marty Krofft Pictures.
Sid & Marty Krofft Pictures Raymond Horn Syndication (1988)

Edit
Scare Rank
Edit
None
Medium for the spinning O.
My thoughts.
Edit
The first one is scary? Oh Seriously. It's relaxing to me. Due to the music. 81.145.248.61 15:39, March 16, 2015 (UTC)