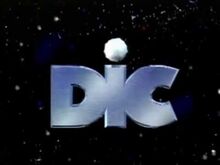 We see a boy sleeping in bed with a dog sleeping on top of him in a stereotypical bedroom of the time. The camera pans through the bedroom to a "spiked" star outside a window above the bed (the spikes are intended to represent shining). The spiked star morphs into a ball, and the word "DiC" (silver-colored and CG-animated) zooms in and rotates 90° right angle below to face the viewer. The Ball is the dot of the "i" in "DiC".
Music/Sounds
Edit
A brief gust of wind, followed by a echoing series of 2 keyboard synth notes.
Availability
Edit
Ranges from Rare to fairly common, based on the version of the logo.
Community content is available under
CC-BY-SA
unless otherwise noted.