We see a boy sleeping in bed with a dog sleeping on top of him in a stereotypical boy's bedroom, with a window above the bed. The camera pans through the bedroom to a "spiked" star outside the window (the spikes are intended to represent shining). The spiked star morphs into a ball, and the silver, 3D word "DiC" zooms in and rotates 90° right angle below to face us. The Ball is the dot of the "I" in "DiC".
Music/Sounds: A brief gust of wind, followed by a echoing series of 2 keyboard synth notes,
Scare factor: NIGHTMARE!
The spiked star (and bois voice) might startle some.
watch on youtube if you are not scared.
WATCH ALL OF THIS IF YOU DARE!!! (Kid in bed)
Edit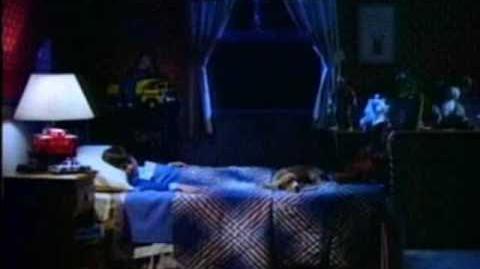 (Green Vortex)
Edit
(The Incredible World of DiC)
Edit
DiC worked on shows like Inspector Gadget, The Real Ghostbusters and Sonic the Hedgehog.
Community content is available under
CC-BY-SA
unless otherwise noted.