Background
Awaken Video (ビデオを目覚めさせる or Awaken the Video) is a dream logo which is based off a JoJo's Bizarre Adventure meme called "Awaken My Masters". It usually produces Hentai, Anime and other things related to Manga or Anime.
Logo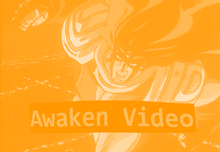 Normal Variant
There is a background with Star Platinum from JoJo's Bizarre Adventure, with text saying "Awaken Video".
Music/Sounds
Awaken My Masters and the "Za Warudo" sound effect (not when DIO says "ZA WARUDO!", only when the effect makes a bass boost-like sound)
Scare Factor
Medium. This logo may sicken many due to the moderate wobble effect and DuoTone effect.